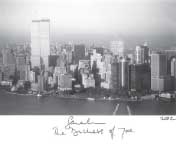 A gift to the author from Sarah Ferguson the Duchess of York:
A photo of the New York City skyline taken by the Duchess herself from the window of her helicopter a few months before the attacks on the WTC and Pentagon during the horrific event historically known as "9/11." Click on image to view larger.
We all have an interesting and unique story to tell about the day our world changed forever - September 11th, 2001. Like Pearl Harbor and the assassination of JFK, each of us remembers exactly where we were on 9/11.
"Where were you on 9/11?" became the question uttered by people everywhere immediately after the attacks on the World Trade Center and Pentagon – and continues to echo throughout the world a decade later! The question will undoubtedly be repeated for decades to come as future generations examine the complex and turbulent saga of America's evolution.
This seemingly straightforward phrase took on a profound degree of significance for author
Janette Reynolds
, as it became a metaphor for where one was physically, mentally and emotionally during one of the most traumatic times in recent US history.
Her book,
Where Were You On 9-11?
is considered the single most eclectic anthology of interviews, bar-none.  According to Reynolds, "I have always held the belief that every individuals' personal story is of significant importance and value, no matter how great or little one's position is in life. There's always something to learn from every encounter we have in life, and there's a book waiting to be written inside of everyone." 
Since the disastrous events of that fateful day in September it has become somewhat of a phenomenon to both share and record the thoughts of those directly or indirectly involved with the tragedy. Janette intentionally gathered the famous, the infamous, and everyday people together in one book for an oral account of that day.
Where Were You On 9-11?
features "…the unique opinion people hold about the events of that day and how crucial those differences are to establishing a healthy perspective and for the healing process to begin."
Where were you when the catastrophic news hit? What was going on in your life? What thoughts raced through your mind? Compare your experiences with world renown media personalities, authors, historians and lawyers like
Gerry Spence
,
Dr. Robert Schuller
,
Sarah Ferguson the Duchess Of York
and
Donald Trump
.
Added author commentary, historical references, and a very special additional interview with
Stephen Baldwin
are included in this
10-Year Commemorative Edition
in honor of the
support volunteers
,
EMT's
,
FDNY
,
NYPD
, and the
families of those who were injured, lost or perished as a result of 9/11.
We will never forget!
Personal recollections from featured personalities:
Lt. Colonel Bo Gritz-Green Beret Commander:
"I'm probably the only American to actually train Afghan-Mujahedeen…I trained them in the use of weaponry against the Soviets, but these were weapons that could be deployed against us should they become our enemies…"
Sarah Ferguson the Duchess of York:
"I am a pilot, so when I saw the airplane go into the first building I said to myself, 'Well it cannot be air traffic controls problem because it's such a blue sky!' I didn't think of terrorism immediately…"
Stephen Baldwin-Actor:
"As the days went on after the attacks, I became very desirable of going on the offensive! I just told my wife to go to the bank and get a bunch of money and food, and be prepared to just stay close to home for a week…"
Gloria Allred-Lawyer:
"I mean it was an attack on the United States of America! It was just unthinkable! You know we can think of it more because of the Oklahoma City bombings, but I guess we live in a kind of optimistic denial and we have a sense of invulnerability…"
Dr. Robert Schuller-Pastor & Speaker:
"I had worked most of the night, so I was still sleeping when my wife awakened me saying that a plane had hit a tower in New York. I sat up, and then looked at the TV for more than an hour. I felt total grief…weeping. I could not relate to this tragedy…"
Pam Houston - Author:
"The end of our lengthy float trip in the Grand Canyon ended on September 11th, 2001. A group of friends and I first heard the news for our river guide, and we thought he was joking! We were all thrown into a state of doubt and confusion. I will never forget the time between hearing, and not having it confirmed. The mood in the van with the eleven of us was that we had no idea what was going to happen next. We were in this weird silence…"
Gerry Spence – Defense Attorney:
"I was fascinated by the speculation from television announcers! The inept way the announcers were presenting the matter; I mean they were surprised and horrified. They did not know what was going on. So I watched it over, and over, and over, and over attempting to get some information. And then both towers collapsed in real-time, and I mean this changed my life…"
GO TO AUTHOR