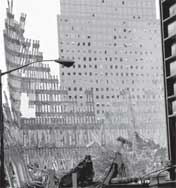 The World Trade Center towers were designed by the late Minoru Yamasaki with Emery Roth and Sons:
They were the best known examples of tube buildings at that time, known to be able to withstand tremendous wind loads. Construction began on the silver-colored aluminum alloy twins on August 5, 1966.
The facts and figures compiled on this website are only a sampling of a myriad of data available. Some of the information may not be suitable for young persons – so monitor at your own discretion. Further, information with regard to numbers and descriptions can vary/change as more information is revealed and verified. For your convenience, we have included several noteworthy websites that contain additional and updated information with regard to September 11, 2001, and the last ten years. Other informational include:
www.9-11commission.gov
,
www.september11news.com
, and
www.911research.net
The first hijacked airliner, Flight 11, struck WTC-1 (north tower) of the Twin Towers at 8:46 a.m. on September 11th, 2001
The hole from the impact crash of the first airliner extended from the 92nd to 98th floors of WTC-1.
Flight 11 was carrying an estimated 10,000 gallons of fuel at the time of impact.
The centered impact of the airliner embedded most of the plane in the WTC-1's stout core, and fireballs fed by office air with atomized jet fuel spilled out of the punctured north wall and adjacent east wall.
The second hijacked airliner struck WTC-2 (south tower) of the Twin Tower at 9:02 a.m.
The burning south (WTC-2) Twin Tower stood 56 minutes.
The burning north (WTC-1) Twin Tower stood 102 minutes.
Both towers collapsed in a matter of 12 seconds.
The event referred to as "9/11" is also acknowledged as "September 11" or "September 11th"; which was a series of four attacks made by al-Qaeda on the United States on September 11, 2001.
Attacks were made on the World Trade Center in New York City; The Pentagon in Arlington, Virginia; and an airliner that had been hijacked and redirected toward our nation's capital, Washington, D.C.
There were nineteen al-Qaeda terrorists who carried out attacks by hijacking four commercial airliners.
Two of the hijacked airliners crashed into the Twin Towers of the World Trade Center.
The third hijacked airliner was deliberately crashed into the Pentagon.
The fourth plane crashed into a rural field near Shanksville, Pennsylvania after the flight crew and some of the passengers attempted to retake control of the plane.
It is believed that the fourth plane had been redirected by the hijackers toward Washington, D.C. to target either the White House or Capitol Building.
Nearly 3,000 deaths occurred as a result of the Twin Towers being struck, and finally collapsing within a two hour period.
Buildings within close proximity to the World Trade Center were destroyed and damaged.
There were no survivors with regard to al-Qaeda from any of the hijacked flights.
As of June 2009, the New York State Health Department reported a total of 836 responders including firefighters and police personnel died as a result of the event.
Nearly 343 firefighters and 60 police officers from New York City and the Port Authority died in the attacks on the World Trade Center.
It is believed that 184 people perished in the attack on the Pentagon.
In 2004, al-Qaeda leader Osama bin Laden claimed responsibility for the attacks after initially denying involvement.
The United States launched the "War On Terror" in direct response to the attacks and proceeded to invade Afghanistan to depose the Taliban who had harbored al-Qaeda members.
The "USA Patriot Act" was enacted by Congress and signed into law by President George W. Bush on October 26, 2001.
The"USA Patriot Act" is an acronym which stands for "Uniting and Strengthening American by Providing Appropriate Tools Required to Intercept and Obstruct Terrorism Act of 2001."
The "USA Patriot Act", commonly referred to as the "Patriot Act" reduced restrictions on law enforcement agencies' ability to search telephone, e-mail, medical financial and various other records to obtain information.
The "Patriot Act" eased restrictions on foreign intelligence gathering within the US and expanded the Secretary of the Treasury's authority to regulate financial transactions particularly those involving foreign individuals and entities; and broadened the discretion of law enforcement and immigration authorities in detaining and deporting immigrants suspected of terrorism-related act.
In May 2011, Osama bin Laden was found and killed by American forces.
Many stock exchanges stayed closed for the rest of the week following the attack and posted enormous losses upon reopening.
Many other countries also strengthened their anti-terrorism legislation and expanded law enforcement powers as a result of 9/11.
The destruction of billions of dollars' worth of office space caused serious damage to the economy of Lower Manhattan.
The damage to the Pentagon was cleared and repaired within a year, and the Pentagon Memorial was built adjacent to the building.
The rebuilding process has started on the World Trade Center site. Inn 2006, a new office tower was completed on the site of 7 World Trade Center.
The new One World Trade Center is currently under construction at the site and is expected to be completed in 2013.
Three more towers were originally expected to be built between 2007 and 2012 on the site.
Ground was broken for the Flight 93 National Memorial on November 8, 2009, and the first phase of construction is expected to be ready for the 10th anniversary of the attacks on September 11, 2011.
Number of firefighters and paramedics killed: 343
Number of NYPD officers: 23
Number of Port Authority police officers: 37
Number of WTC companies that lost people: 60
Number of employees who died in Tower One: 1,402
Number of employees who died in Tower Two: 614
Number of employees lost at Cantor Fitzgerald: 658
Number of U.S. troops killed in Operation Enduring Freedom: 22
Number of nations whose citizens were killed in attacks: 115
Ratio of men to women who died: 3:1
Age of the greatest number who died: between 35 and 39
Bodies found "intact": 289
Body parts found: 19,858
Number of families who got no remains: 1,717
Estimated units of blood donated to the New York Blood Center: 36,000
Total units of donated blood actually used: 258
Number of people who lost a spouse or partner in the attacks: 1,609
Estimated number of children who lost a parent: 3,051
Percentage of Americans who knew someone hurt or killed in 9/11: 20
FDNY retirements, January–July 2001: 274
FDNY retirements, January–July 2002: 661
Number of firefighters on leave for respiratory problems by January 2002: 300
Number of funerals attended by Rudy Giuliani in 2001: 200
Number of FDNY vehicles destroyed: 98
Tons of debris removed from site: 1,506,124
Days fires continued to burn after the attack: 99
Jobs lost in New York owing to the attacks: 146,100
Days the New York Stock Exchange was closed: 6
Point drop in the Dow Jones industrial average when the NYSE reopened: 684.81
Days after 9/11 that the U.S. began bombing Afghanistan: 26
Total number of hate crimes reported to the Council on American-Islamic Relations nationwide since 9/11: 1,714
Economic loss to New York in month following the attacks: $105 billion
Estimated cost of cleanup: $600 million
Total FEMA money spent on the emergency: $970 million
Estimated amount donated to 9/11 charities: $1.4 billion
Estimated amount of insurance paid worldwide related to 9/11: $40.2 billion
Estimated amount of money needed to overhaul lower-Manhattan subways: $7.5 billion
Amount of money recently granted by U.S. government to overhaul lower-Manhattan subways: $4.55 billion
Estimated amount of money raised for funds dedicated to NYPD and FDNY families: $500 million
Percentage of total charity money raised going to FDNY and NYPD families: 25
Average benefit already received by each FDNY and NYPD widow: $1 million
Percentage increase in law-school applications from 2001 to 2002: 17.9
Percentage increase in Peace Corps applications from 2001 to 2002: 40
Percentage increase in CIA applications from 2001 to 2002: 50
Number of songs Clear Channel Radio considered "inappropriate" to play after 9/11: 150
Number of mentions of 9/11 at the Oscars: 26
Apartments in lower Manhattan eligible for asbestos cleanup: 30,000
Number of apartments whose residents have requested cleanup and testing: 4,110
Number of Americans who changed their 2001 holiday-travel plans from plane to train or car: 1.4 million
Estimated number of New Yorkers suffering from post-traumatic-stress disorder as a result of 9/11: 422,000
Construction on the World Trade Center twin towers began on August 5, 1966
The World Trade Center towers were designed by the late Minoru Yamasaki with Emery Roth and Sons.
The twin towers were known as the best examples of "tube buildings" in their day; able to withstand tremendous wind loads.
The Port Authority of New York and New Jersey constructed the twin towers.
Each of the floors retained an entire acre of office space.
The World Trade Center represented more than twenty-six countries.
Tower One (the north tower), stood 1,368 feet
Tower Two (the south tower) stood 1,362 feet
At the time of completion, the WTC towers were the two tallest buildings in the world at 110 stories each.
At the base of the towers was a paved courtyard – the Austin Tobin Plaza.
Tower One was completed in 1972.
Tower Two was completed in 1973.
The World Trade Center was located on a 16-acre piece of land between Yesey and Liberty St, and Church and West St
The foundation of each tower extended more than seventy feet below ground level on solid bedrock.