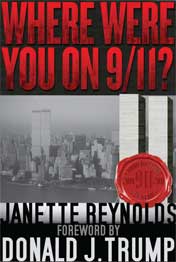 Ten-Year Commemorative Edition: Umbrella Publishing presents the ten year anniver- sary issue of Where Were You On 9/11?
A rich example of the many voices and opinions across the nation - and a reminder of "where we were" as a nationa & people during one of the most traumatic times in US history. Discover the road that many, including the author traveled as a result of 9/11, and see for yourself how lives were changed!
Over 190 pages of intimate recollections of September 11th, 2001. Cover photo by
Sarah Fergsuon the Duchess of York
, additional
author commentary
, historical references, and a very special interview with
Stephen Baldwin
are included in this
10-Year Commemorative Edition
in honor of the
support volunteers, EMT's, FDNY, NYPD,
and the
families of those who were injured, lost
or
perished
as a result of 9/11. We will never forget!
Take a copy home today to reflect, remember, and to share stories of September 11th, 2001 forever.